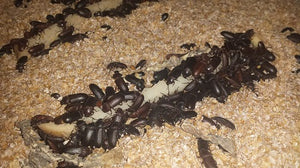 Darkling Beetles
Regular price
$14.99
$0.00
Unit price
per
 HOLD FOR PICKUP at your post office is MANDATORY
Beetles less than one week old when shipped!!!
These are Tenebrio Molitor - a species of Darkling Beetle.
Shipped via USPS Priority, Hold For Pickup - this means you pickup the package at your local post office, I will provide you with the post office information if you need it.
HOLD FOR PICKUP at your post office is MANDATORY
Hold For Pickup is mandatory given the time of year.  I've spent months raising these for you, I want them to be as healthy as possible when they arrive.  Even in mid-range temps, if live insects sit in a mailbox too long they can overheat and die. To maximize survival, your package will be shipped to your local post office where you will need to pick it up. The tracking number will be emailed to you once shipped, you will be responsible for setting up tracking with USPS (email/text) and picking up your order promptly when it arrives.
In the unlikely event that a problem occurs, pictures must be sent via email within 6 hours of arrival at your post office.  If you want them shipped directly to you, message me and I will accommodate but cannot provide a live guarantee.  Any shipment sent to a post office via hold for pickup is entitled to a one-time replacement IF pictures and details are provided within 6 hours of arrival at the post office.
Orders placed by Sunday at 1pm central will ship out the next Monday.  Local pickups are welcome.

I add 10% extra to account for loss due to shipping stress, but issues could occur outside of our control during shipment.
Please note : no wheat bran is shipped with the beetles.
---