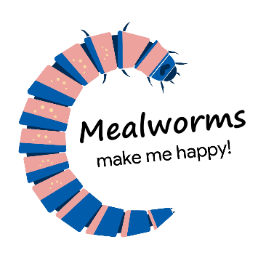 Raising Mealworms for Beginners - Starting 3/7/23
Regular price
$39.99
$0.00
Unit price
per
Mealworm Farming for Beginners
 - a 12 week long course hosted by Justin Meyer, intended for those just starting out or struggling to raise mealworms, using a system of 20 trays or less.
Each session is limited to 10 people located in the US.  At least 5 people are needed for a course to be scheduled.  If the minimum is not met, full refunds will be provided.
Cost:  $39.99 total
Meeting Day and Time:  Every other Tuesday, 8-9pm Central, starting on March 7th, 2023.

Formal agenda to be followed each meeting and provided before each session:  first 5 mins, gathering and navigating technical issues.  Then 5 minute blocks, one for each participant.  Final 5, closed out by me.
Meeting Details:  
- 3 month duration
- Length:  1 hour sessions
- Frequency:  every 2 weeks beginning March 7th, 8-9pm Central
- Total of 6 meetings
- Tech: recorded via Google Meet.  Recording ONLY available for participants, will not be published or used in any other way by Midwest Mealworms OR participants.  These recordings will be deleted after the session completes and everyone has completed watching the recordings.
- Audio / Video not required, but will help you get more value and benefit from the course if used.  If you choose not to speak, you may send your questions to
justin@midwestmealworms.com
- If you will miss a session, you can email me your status and questions prior to the meeting, and the group will cover them together during your 5 minute block. You will then be able to watch the recording.
With each 1 hour session, each participant will get one 5 minute block allocated to discuss their colony, status updates, questions, problems and successes.  During each block, feedback is 100% welcome and encouraged from other participants.  
Requirements:  
Purchase
this course.  Once purchased, you will receive an email with the below questionnaire.
Complete the questionnaire:
Physical Location:  State Code [MO, TX, etc]
Colony size existing or starting with:  X mealworms, Y beetles
Location of colony:  kitchen closet, basement, outdoor shed, etc
Pictures of setup:  to be viewed ONLY by Midwest Mealworms unless you share with the group on your own.
Goals:  feed my geckos, feed my chickens, etc.
Safety equipment used:  mask type, ventilation, outdoor, etc
Disclosure:  No guarantees of any improvements or results.  Any information disclosed is by choice, nothing is mandatory to share.
---